Boat Rental Options
At Sandbar Powersports, we supply boat rentals on Lake Havasu as a way to beat the Arizona heat! Cool off and enjoy skimming the waves with our wide variety of Lake Havasu boat rental options. Whether you're interested in high-speed watersports or a leisurely day on the lake, we'll help you find the perfect rental for an afternoon of fun. Contact us today by calling (928) 854-4242 or book online now.
Renting a Boat for the Perfect Day
Nothing is more energizing than experiencing the cool water and refreshing breeze while you speed along in your ski boat or pontoon boat rental. If you like to fish, cruise, wakeboard, or socialize, we have the perfect vessel for you.
In addition to boat rentals, we also offer other ways to enjoy Lake Havasu, Parker, and the surrounding areas of Arizona, including jet ski rentals and our ATV tours. Contact us at (928) 854-4242 to reserve your rental today. With Sandbar Powersports, the opportunities for fun are endless!
BOOK NOW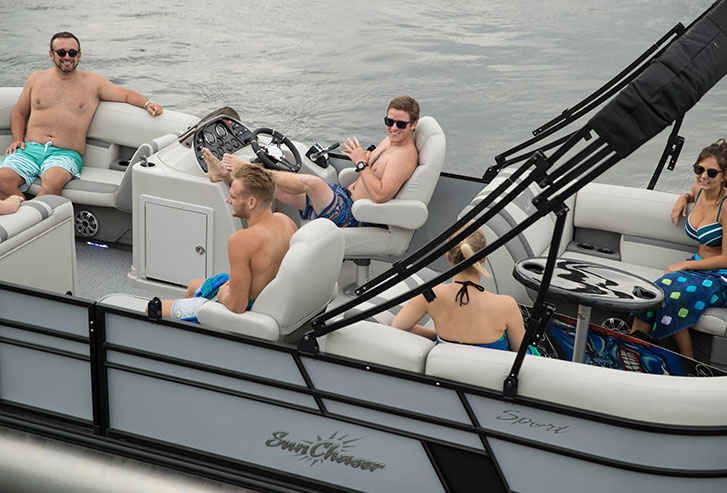 How to Rent a Boat
Sandbar Powersports makes the process of renting a boat in Lake Havasu quick and easy. Here is what to expect when you arrive:
1

Paperwork & Payment


We keep this step short and sweet.

2

Boat Orientation


We do require that boat drivers to have boating experience and boating knowledge. For those who need a refresher, we'll give a quick driving lesson so you'll feel at ease. We want all of our guests to feel comfortable in their rental vessels. Renters that are driving our boats on Saturdays or holidays are required to have extensive experience for your safety and ours. During the week we can assist individuals wanting to learn to drive but this must be set up in advance.

3

Destination & Direction


If you aren't familiar with the area, we can point you to the best places to boat, fish, and water ski with a local map.

4

Launching & Retrieving Boats


We launch and dock all boats so our customers don't have to focus on tricky maneuvering.
Rent a boat with Sandbar Powersports to experience "Great boats, great service, great fun." Whether you are planning your first trip to Lake Havasu, AZ, or are returning for your tenth, you'll have boatloads of fun. Contact us today at (928) 854-4242 or book online to reserve one of our affordable Lake Havasu boat rentals; we look forward to serving you. We also offer a full lineup of new and used boats for sale.